Medusa pendants are way more than just a stylish fashion accessory… It's a symbol with cultural significance and history.
In Greek mythology, Medusa was a feared gorgon with snakes for hair, with the capacity to turn people into stone with a single, deadly glance. She was intimidating and highly regarded, with her image often used as a protective talisman.
Today, the Medusa pendant is a modern interpretation of this ancient symbol, and it's often worn as a reminder of the strength, power, and protection associated with the Gorgon.
In this blog post, we'll be showcasing our top 7 picks for men's medusa pendants. Ranging from designs that display a minimalist style, to more intricately crafted statement pieces, these pendants are sure to inspire your inner warrior and add a historic edge to your style. So, whether you're searching for affordable pieces or indulging in an extravagant piece to add to your collection, we've got you covered.
Made from high-quality 316L stainless steel with a polished finish, the medusa head, which is surrounded by the fearsome snake hair, is overlaid on Athena's shield. This perfectly symbolises the classic saying 'attack is the best defence', leaving the wearer protected from evil forces. The small pendant measures 25mm x 25mm, creating a subtle yet eye-catching finish to your outfit. 
Gold Round Medusa Pendant Chain – Illicium London (£49.99)
Plated with 24K gold, and based with durable 316L stainless steel, this gold round medusa pendant captures the light in a mesmerising fashion, bringing outfits to life. The pendant represents an adventurous character, with its detailed carving of a Medusa with furious eyes and writhing snake hair. Although only a small accessory measuring 20mm x 20mm, it sure carries an emphatic effect no matter the occasion.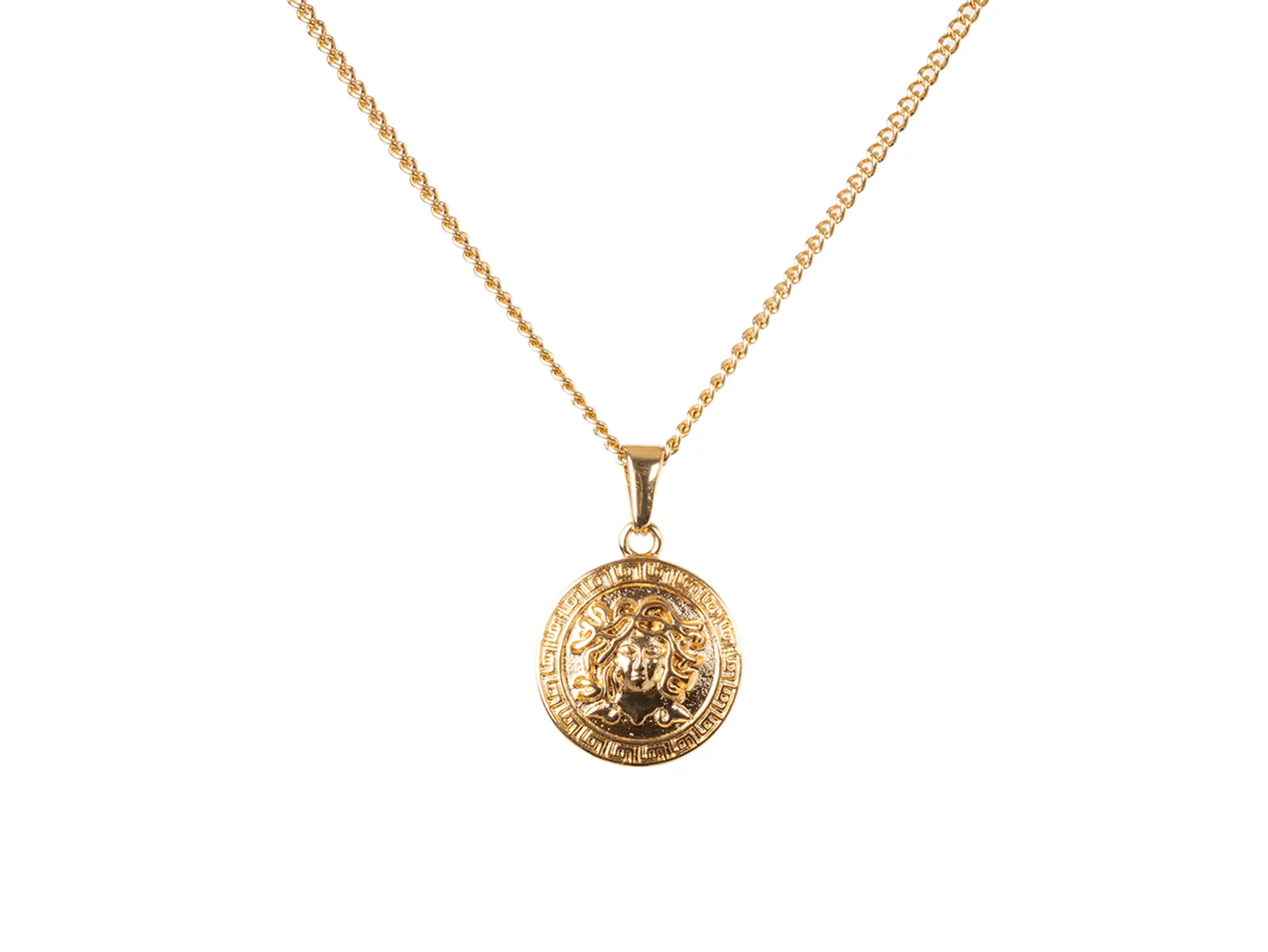 Silver Round Medusa Pendant Chain – Illicium London (£49.99)
This silver round medusa pendant provides a more subtle accessory piece in comparison to its gold counterpart. Crafted from skilled artisans, the polished finish provides a sophisticated shine that subconsciously seems to capture the eye, creating depth to any outfit.
Black Gold Medusa Pendant – Marcozo ($95)
With the dynamic contrast between the black medusa face and the golden snake hair, it's almost impossible for passers-by to not notice this unique medusa design around your neck. Unlike our previous choices, the medusa does not sit on a circular shield. Measuring at a slightly larger size of 31mm x 30mm, this iconic accessory is sure to create more of a bold, statement-piece effect.
With a golden glow that gleams in the light, this design displays the infamous medusa in an oval-like pendant. Plated with 18K gold, The oval shape of the pendant perfectly complements the intricate detailing of the legendary Medusa, whose serpent-like hair and fierce expression are beautifully captured in the design.
For a unique, unconventional design, the tormented medusa offers a hypnotising effect that creates immediate intrigue. There's a fine line between good and evil…and the vertical line splitting the medusa's face symbolises just that. The 18K gold plating really helps to bring the detail of the design to life.
Enamel Medusa Necklace – Versace (£300)
A premium and luxurious piece from a highly respected brand, the enamel medusa pendant's incredible colour contrast captures attention in an instant. This design displays the notorious medusa head covering a smaller part of the circular pendant in comparison to our previous choices. Made from brass and immaculate enamel detailing, this medusa pendant will leave a lasting impression of opulence and sophistication on any outfit. 
Conclusion
In conclusion, Medusa pendants are not only stylish accessories but also hold deep symbolism and meaning. Whether you're drawn to their bold and edgy designs or their rich history and mythology, adding a Medusa pendant to your collection is sure to elevate your fashion game.
There are numerous Medusa pendants available to fit every budget and preferred style, ranging from premium designer selections to more affordable designs. And with the various ways to style them, you can make them work with any outfit and for any occasion.
So… whether you decide on a bold statement piece or a classy minimalist design, channel your inner warrior and protect yourself from evil with one of the 7 best medusa pendants!