Unless we're talking about the unexpected worldwide lockdown caused by the coronavirus pandemic, these days bags are an essential component of everyday outfits, particularly for work. If you work outside home, the one thing you probably never leave your house without is your trusty work bag. It carries precious work necessities such as documents, folders, laptop, stationary and various other accessories. Bags fulfil a crucial organisational need which is a must if you strive for success in your respective field. That being said, not just any bag will do, there are a host of factors and characteristics (bag style, size, cost, etc) which must be considered in order to choose a bag that suits your career and life the most.
Men and women can be quite different when it comes to business fashion and this difference is only amplified when it comes to work bags. Whilst the majority of women may spend hours on end turning the store upside down trying to find the right designer bag, men can take a different approach, opting to browse the web a short time and fairly quickly narrow down their search to a few options, choosing a bag that meets their requirements and looks stylish enough to carry, with the brand name somewhat of a bonus. But is that enough?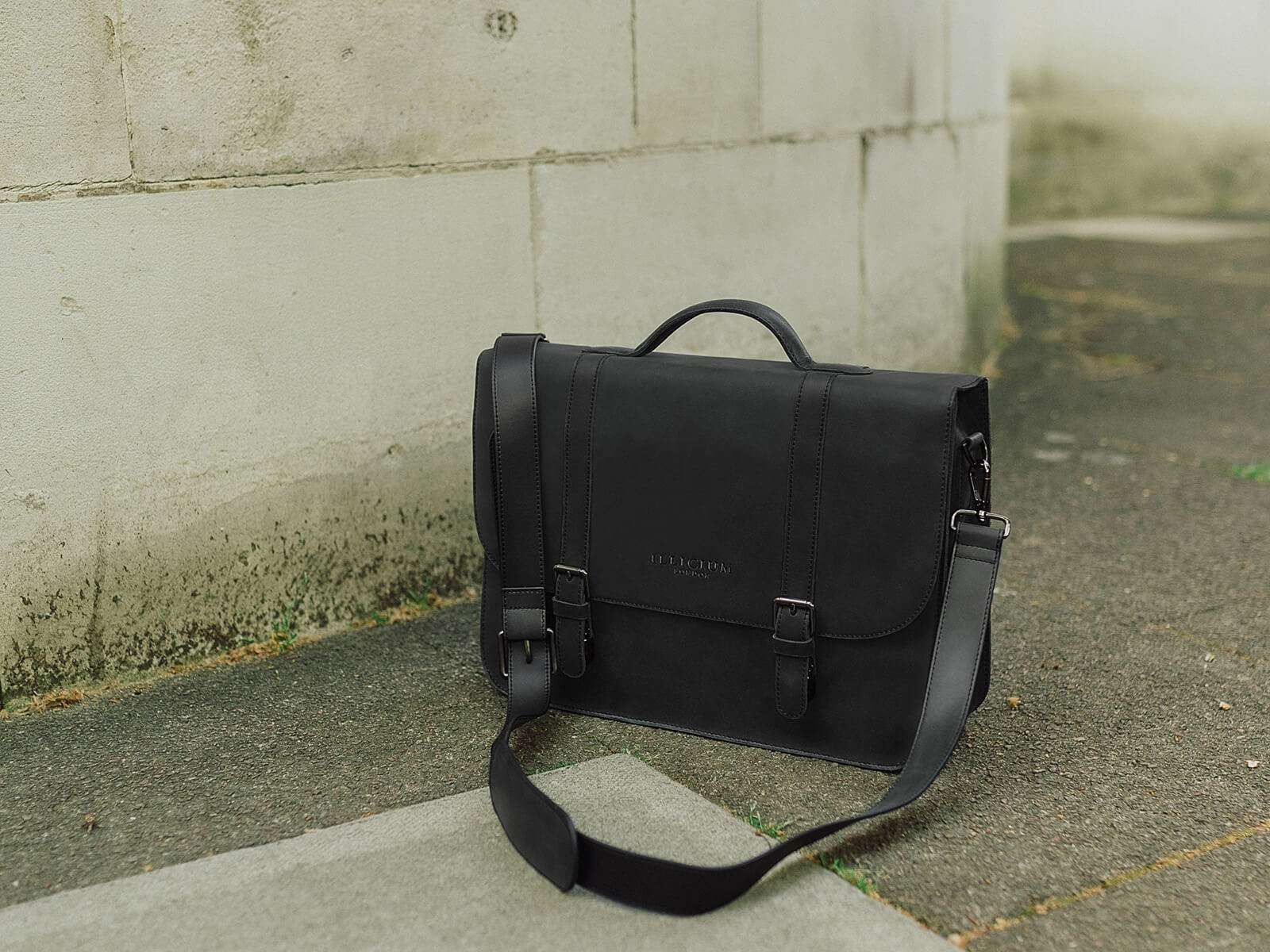 Probably not. When you are an ambitious professional and need to choose the right work bag, there are a few factors you need to keep in mind in order to choose a bag that fits your purpose and is within your budget. Since your work bag is part of your professional attire, it should be attractive and not too flashy. It should also keep your work materials organised so that it makes your job and life easier and certainly must be strong enough to haul all of your stuff around without causing you discomfort.
This might all sound like a lot, but not to worry we've done our homework and narrowed down a list of 6 key aspects to consider, to help find the right bag for you:
Durability
A work bag is an opportunity to step it up and make a sound long term investment, so whilst it's not essential to go for a top brand label bag that costs as much as your rent, it is essential that you go for a well-constructed, sturdy option that will endure many years of solid use. A leather bag is the best choice when it comes to durability. They usually last for years if properly taken care of. Although fabric is a good economy option, particularly for backpacks for casual use, nothing stands up in comparison to a quality full grain leather bag, which rather than looking weathered, raggedy and torn from intense use will develop a rich patina on the leather and will only compliment your distinguished appearance.
A bag with a single compartment is arguably worse than having no bag at all. Although too many pockets are overkill and can be somewhat of an inconvenience, especially if they are layered on top of each other and a pain to get to. Then, what to go for? We recommend you make a list of your daily essentials and visualise how many
compartments that would require. In general. two compartments will work if the bag also has a couple of side pockets for smaller accessories and valuables, ideally you want an internal zipper pocket and an external zipper pocket as well as a padded laptop compartment. Remember compartments can make all the difference when it comes to organisation and can avoid you missing that 7am train because you can't find your ticket or wallet!
There are a variety of styles when it comes to man bags, so you may be at a loss for the type of bag that suits your life and career the most. The different types of men's bags include; duffel holdall bags, tote bags, messenger bags, backpacks, amongst others. This can make it a bit overwhelming to find the one for you. To put it plainly, choose your style as per your profession. If you are an artist, you need a bag with lots of compartments and pockets to carry essentials like brushes, paints, tools, etc. If you are a banker, businessman or a lawyer, then a briefcase or smart messenger bag is what you need. Furthermore, its imperative to consider the size of the job specific items you'll need to fit in your bag, as the last thing you want is the dimensions of your new bag not to fit an essential work instrument.
The ease and convenience with which you are able to carry your bag is another key factor. For a college or university student, a nicely padded backpack with soft shoulder straps does the job, providing adequate support and cushioning whilst carrying heavy textbooks and study materials, at the same time still enabling manoeuvrability and ease of movement when running late! (This is also a good option if you have a long commute to work).
When you're adorning a suit, on your way to address important business executives, handles are the best option, such as a briefcase or briefcase messenger bag, they tend to be slim, compact and discreet options that compliment your professional appearance rather than stealing attention away. If you work in a relaxed, more casual work environment, bags with a shoulder strap, like messenger and holdall bags are a good choice. If you are choosing a strap bag, then make sure that the strap is wide, cushioned and durably reinforced, to avoid upsetting your shoulder and causing long term pain. Ideally look for convertible handles and straps, as it's best if the bag can be carried in two different ways; in your hand and over the shoulders. Both the Kingsman messenger and duffel bags offer this option, featuring detachable shoulder straps allowing the bags to be carried by hand if you are so inclined.
The capacity that you need your bag to possess depends on what you carry. Although capacity is often listed in litres (volume of the bag), with the average capacity for a duffel holdall bag being 25 litres, this is not always the best way to ascertain the real-world capacity and spaciousness of the bag. Better is to consider the dimensions and match those up to the dimensions of the large items that you'll be typically using the bag to carry. For instance, if you're a designer and always carry a large wide screen laptop to work then you'll need to ensure the bag has sufficient width to accommodate it. A college art student who will probably tend to carry large folders will need a bag which is taller, thus the height and width dimensions should be considered. For lawyers, accountants and business professionals a compact and organised bag that can carry a laptop along with a section for essential documents and necessary items tends to be a good choice.
Finally, don't forget the all-important design and external attractiveness of the bag. Apart from the functionality that your bag offers, it should still look good from the outside. After all, much like a trusty steed on an adventure, it is going to be at your side, accompanying you to meetings, conferences and hopefully be promoted up the career ladder with you. Our advice is to stay well away from blatant, shiny brand logos. Not only is a large-print or shiny overstated metal badge logo too conspicuous to flaunt at your board meetings, but you'll probably be over it within a few months. Remember a good work bag should stand the test of time and not look so, for example, "summer 2019". For classy professionals, there is no better choice than a sleek black full grain leather bag.
For real men, a decent professional leather bag is a vital accessory. The factors discussed above will help you find the best piece for you, one that fits your work environment without placing too much of a burden on your wallet.