One of the best investments you can make for travel, commuting, and adventure is in a high-quality leather backpack.
Although most rucksacks are practical and functional, some don't always check the comfort or style boxes. That's why leather is your best option! Not only is it a beautiful, timeless material that'll last for a long time, but it is also relatively easy to maintain or repair.
A leather backpack provides natural comfort and beauty that improves with age. Although every hide is a little different, manufacturers bring out the best qualities in each piece to create a luxurious, handcrafted experience.
Our Pick for a Leather Backpack in 2021
When you shop with Illicium, you'll discover the Kingshood Leather Backpack delivers generous dividends through multiple aspects. It embodies a vintage look, featuring the classic anti-theft flap closure in the front, with a secure yet accessible zipper pocket for phones and accessories. You also receive twin pouches on either side for storage to keep your everyday items like reading glasses within easy reach.
The Kingshood Leather Black Backpack uses a safe and secured laptop pocket at the rear with a central compartment to comfortably carry your wash bag, books, important documents, or work materials. With the full-grain leather finish and fine stitching details, you'll have a pack that adds sophistication to any situation.
What Are the Top Leather Laptop Backpacks for 2021?
1. Wilsons Leather Vintage Nebraska Backpack
If you want a leather backpack with some personality, this one delivers what you want for an affordable price. It's rugged enough to withstand your travel adventures while providing a retro style that works for your daily needs. Although the straps are a bit light for padding, you'll have plenty of storage space within the main compartment to hold most items. It can even function as a weekender.
| | |
| --- | --- |
| Pros of Using the Wilsons Leather Nebraska | Cons of Using the Wilsons Leather Nebraska |
| It utilizes a vintage design that safely carries today's technology.The pack comes with a drawstring closure to prevent theft.It includes a large interior pocket with a zipper. | It doesn't come with a warranty, although the double-closure system with buckles is generally reliable.If you need to go anywhere for more than a weekend, you'd need a bigger pack. |
2. Leatherology Parker Backpack
With everything designed in-house for this leather backpack, you'll be getting your hands on a timeless product that works well for everyone. You'll have a 17-inch laptop interior sleeve to use, exterior side pockets for your keys and chargers, and bonus storage space for your other small items. It comes in several different shades to deliver a versatile look for almost any style.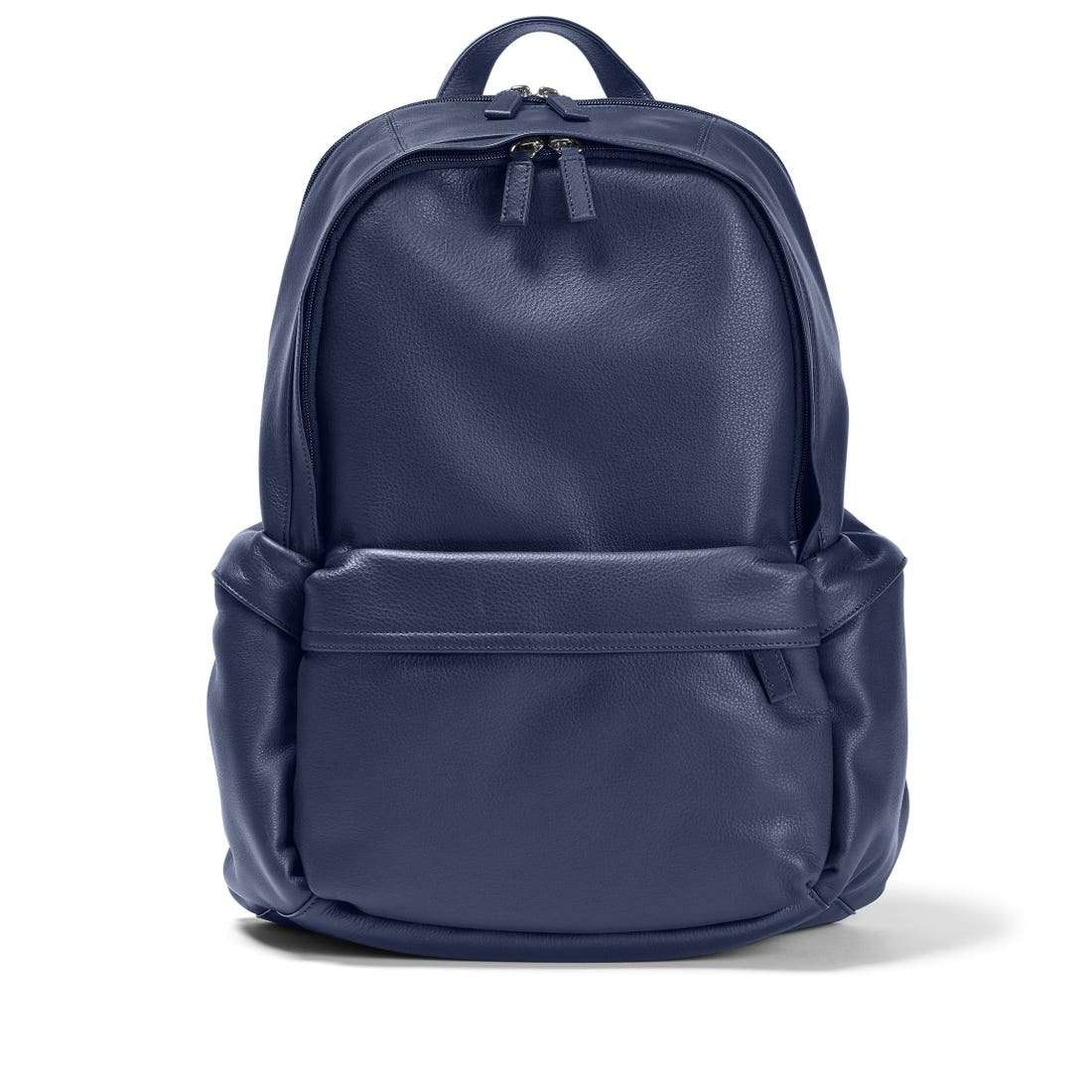 | | |
| --- | --- |
| Pros of the Leatherology Parker Backpack | Cons of the Leatherology Parker Backpack |
| You have plenty of room inside to use for multiple storage needs.The design keeps your technology away from everything else you would pack.It fits underneath an airline seat for added convenience. | Its cost is somewhat higher than comparable leather backpack designs today.The softer leather isn't as durable as some other bags.There isn't a warranty included with the product. |
3. ONA Monterey Backpack
This leather backpack brand was founded in 2010. The company took New York City by storm, providing a highly functional pack that stayed stylish while supporting freelancers, gig workers, and creative pros. It uses a timeless design with burnished black leather to create the correct support levels. Although the pack is meant more for hauling tech than anything else, the removable dividers allow it to be used for taking day trips.
| | |
| --- | --- |
| Pros of the ONA Monterey Backpack | Cons of the ONA Monterey Backpack |
| It offers an air mesh back panel for added breathability.The design incorporates a double closing system for added security.Each compartment has its own access point for added convenience. | Spacing is the primary issue with this particular pack. It holds a 13-inch laptop, but it is more for smaller things, such as clothing or |
4. Monte & Coe Camden Backpack
Founded in 2012, this backpack maker focuses on creating limited-run leather bags that get made with ethically sourced materials. Each one uses full-grain Italian leather and wool to produce a high-quality product you'll love. With this option, you'll receive a handmade design like a cross between a small commuter and a weekender. It's perfect for spending an evening with friends!
| | |
| --- | --- |
| Pros of the Monte & Coe Camden Pack | Cons of the Monte & Coe Camden Pack |
| You'll have access to several color varieties so that your pack matches whatever style you prefer.It's one of the highest-quality backpacks that you can find today.The product comes with a lifetime guarantee. | It's more affordable than a designer brand, but the cost is still higher than what some people want to pay for a small pack.The storage compartment is too small for a standard camera.You don't receive an exterior pocket to use with the design. |
5. Pad & Quill Heritage Rolltop Backpack
This artisan leathercrafting company has been producing backpacks in the United States since 2010. Their first product was a leather case for an iPad, but they quickly expanded to become one of the best leather pack producers in the world. You'll receive a vintage look with a weather-resistant rolltop that offers plenty of convenience access. When you want to stand out in a crowd, this beautiful product can make that happen.
| | |
| --- | --- |
| Pros of the Pad & Quill Rolltop Pack | Cons of the Pad & Quill Rolltop Pack |
| It delivers a unique look that remains functional with its modern design.The manufacturer uses full-grain leather and tough stitching to enhance its durability. Brass buckles are used to secure your items instead of zippers.You receive a 30-day money-back guarantee and a 25-year warranty with purchase. | The backpack weighs three pounds, which is a little heavier than most other designs.It uses a slim profile that restricts the items you can carry with it.The buckles aren't always easy to manage if you're in a hurry. |
The Verdict
The best leather backpacks in 2021 can help you become more efficient with your work or travel needs at an affordable price. When you select one of the items from this list, you'll know that your investment will work hard for you throughout the year.