After spending the majority of 2020 at home, many workers are beginning to be asked to prepare for a return to their office environment.
Although COVID-19 is still creating massive problems, the combination of vaccination programs and PPE compliance around the world has had a noticeably positive effect on flattening the infection curve. Many employers are targeting a Autumn 2021 date for getting people back to something closer to a usual work routine.
If you find yourself in that situation, you'll want to start thinking about what you need for this return to normalcy.
Items That Make Returning to Work a Lot Easier
When your employer says that telecommuting is no longer an option, you'll want to get prepared for the new work environment. Every transition has some hiccups to manage, but you'll reduce your risks of facing inconvenient moments and ensure a smooth transition by having the following items available.
1. A Leakproof Travel Mug
Whether you arrive at work by rails, wheels, or your feet, it helps to have your favourite drink along for the journey. You might prefer coffee over tea, but an insulated travel mug will keep whatever your drink of choice at the right temperature.
The Contigo West Loop travel mug with its 2.0 travel lid holds 470mL with its combination of stainless steel and plastic items. It uses a double-wall design to keep hot drinks for up to five hours or cold ones for up to 12 hours.
2. A Power Bank
Your phone or tablet has extra travelling to do when you transition from a home office back to work. If you forget to charge it overnight, there might not be enough energy to get you through the day, which is a disaster! (first world problems)
That's why you can pack the Anker Astro E1 Power Bank to come with you during your commute. It's an ultra-compact 5200mAh portable charger that works with most current devices. You'll get two charges for an iPhone 7, one full refill for the Galaxy S7, and a 70% rating for many tablets.
3. An Umbrella
If you haven't needed to travel much in the past year, your current umbrella might not be ready for the work of a daily commute. That's why an upgrade to the boy® Automatic Windproof Umbrella is worth considering.
You only need one hand to use the umbrella, making it exceptionally convenient to use. All it takes is a single button press to open or close it.
It's made with aluminium and fibreglass to have more flexibility on windy days without turning inside out. With the monochrome rubber handle and lightweight design, you won't need to worry about losing your grip!
4. Heated Seat Cover
It was nice to wear your robe from the bedroom to the home office during the telecommuting days. You could feel warm, relaxed, and ready to tackle your day! Now that you're getting ready to go back to work, a heated seat cover can help you stay more comfortable on those cold days.
When you have the Kingleting Heated Car Seat Cushion, you have a simple way to stay comfortable and snug while driving. If you have a portable DC 12V battery pack, you can bring it into the office for even more convenience.
5. Leather Backpack
When you don't need to bring clothes with you for the gym or bring some work to do at home after being at the office all day, a leather backpack is a reasonable investment to consider.
The Illicium leather backpack uses vintage designs and high-quality materials to make sure you can balance work and travel within one investment. It features an anti-theft flap closure at the front, fast storage access with a vast central compartment, and fine stitching on full-grain leather for added style and durability.
It's large enough to fit your laptop, features a wide range of compartments, and Ox Blood suede lining to protect your shroom gummies belongings.
6. Stackable Lunch Boxes
It might be fun to find your favourite little café for a snack or a mid-day meal when you go back to work at first. When you visit those establishments daily, the cost can start adding up quickly. That's why it makes sense to bring your meals with you.
If you invest in the Nifty Kitchen Bento Lunch Box, you'll receive a stackable container set with waterproof technology. That means you can pack almost any food with you to work, including soups! The product comes with stainless steel cutlery and plenty of additional bonuses so that you can refuel to conquer the rest of your day.
7. Stick-on Card Holder
Numerous merchants are moving toward contactless payment technologies. It's a simple way to maintain a hands-free transaction while we keep working toward improved COVID-19 management techniques.
If you don't want to use a payment app on your phone, the Sinjimoru Adhesive Card Holder works well for your tap-and-go needs. It affixes to the back of almost any phone to store your ID and payment needs securely.
This product works on any smartphone.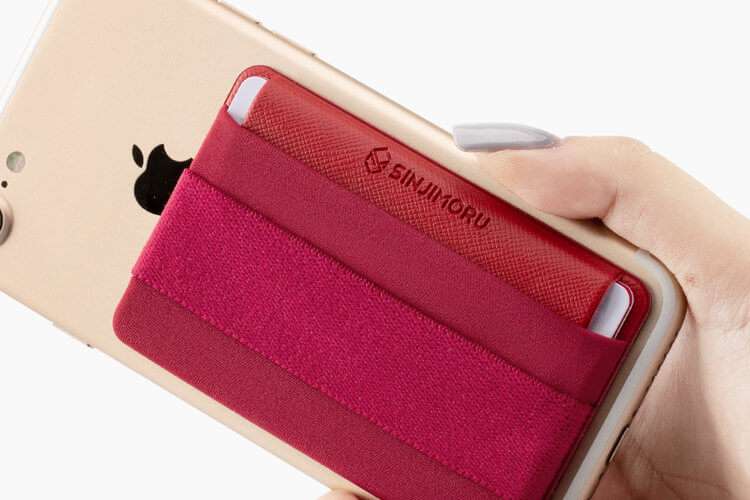 8. Amazon Kindle
With an updated glare-free option, the Amazon Kindle Paperwhite is the perfect device to carry when you like to read while commuting on public transportation. The background stays crisp in almost all lighting conditions, ensuring that you can finish the book you've wanted to read.
One More Item That You'll Need for Going Back to Work
Here at Illicium, we understand the importance of having something that carries all of your essentials with you to and from work. Our Kingshood men's leather messenger bag delivers a luxurious experience at an affordable price to ensure you receive the perfect balance of versatility and style.
We feature a practical design with numerous pockets and compartments for your documents, laptop, and professional accessories.
Our leather messenger features full-grain leather with options for finer details, including personalisation and embossing.
If you don't need a messenger, our men's leather duffle bag provides another option with ample storage and similar features.
When you combine this investment with the other essentials you'll need to return to work, it is possible to make 2021 a memorable year for all of the right reasons!